Bomberjack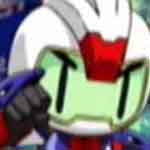 Status: Offline

Joined: 02 Jul 2006
Posts: 529


#

2 Posted: Mon Dec 04, 2006 4:20 pm
Two of those enemies were later (re)introduced pretty much as they were in the DC game in the anime Jetters. Therefore I would assume the names Mermaid Bomber and Thunder Bomber apply to them in the DC games too.
Ground Bomber may originally have had a different name. I definitely knew at a time, but forgot (perhaps Construction Bombers? Bah)

The other two are the Fire Brothers and Wind Giants (even though apparently there's only one giant and lots of midgets in that team).